[rev_slider alias="wie zijn wij"][/rev_slider]
Meet our team :
Luc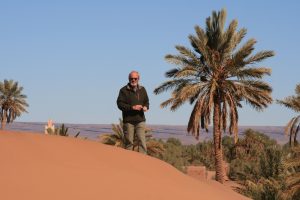 – Owner Carrefour
– World Traveler
– Active dreamer
Born in Belgium near Antwerp. From an early age travel is a true passion. Any possibility to make a far journey was seized. On foot, by bike, by motorcycle, by 4×4. His travels took him through Europe, North America, Australia, but above all very often through Africa. Of course he also worked very hard for a living between all these trips, mainly in Belgium but also abroad. The great fondness for desert regions has ultimately led that he finally settled down in the Moroccan Sahara desert. Luc comes to life when he can share his great passion for the beauty of the desert and wide-open expanse of rocks and sand with new visitors to his hotel: the Carrefour des Nomades
Hassan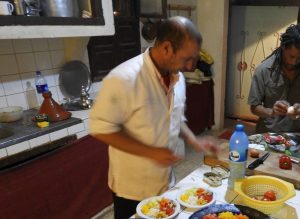 – Chef de cuisine
– Reception
– Wizard
Born in a small berber village at 1900 m altitude in the Atlas mountains. Hassan was raised with spoons and forks in his hands. His father was a chef, his older brothers are cooks, and followed from tender age in their footsteps. First as assistant cook in a restaurant along the Tizi n ' Tichka pass towards Marrakech. Afterwards as a chef in hotels in Ouarzazate and Zagora. Since 15 years he is in charge of the kitchen of the Carrefour des Nomades. He is a master in combining traditional local cuisine with surprising influences from the French cuisine that he very well knows. He is sincerely happy and proud when he notes that customers enjoy his cuisine.
Mohamed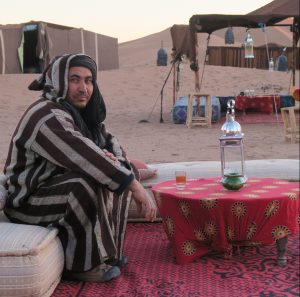 – Camel driver
– Authentic nomad
– Pure desert
Born in the nomad tent of his parents near Lac Iriki, he has known for the first 30 years of his life only the authentic nomadic way of living as guardian of herds of camels and goats in the desert. Zagora, Chegaga, Foum Zguid and even further, he has been everywhere on foot. He knows the desert through and through. Every path, every slope, every plant, every grain of sand, every water well. 15 years ago, he left the hard nomads exist in the desert behind him. Since then he has been camel driver of desert trips. He guides all excursions across the desert that are organised bij us. Mohamed is pure, he is pure desert.
Khadir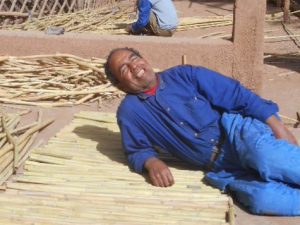 – Cook and waiter
– Modern nomad
– Storyteller
Born in Zagora, the small desert town on the legendary caravan route to Timbouctou. Khadir has worked his whole life in the tourism near Zagora and M'Hamid. A creative and stylish cook and waiter, who, as a modern nomad, has worked in the kitchens of several hotels, restaurants, and bivouacs in the desert. He is known as a brilliant storyteller and is the eternal optimist. He is also your ideal companion of the walks in the vicinity of our hotel, in the palm gardens of Ouled Driss and the ancient villages along the Oued Drâa.